The Master Negotiator
October 25 @ 9:00 am - October 26 @ 5:00 pm UTC+0
EGP3,200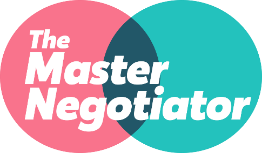 Workshop Overview
"Everything is negotiable. Whether or not the negotiation is easy is another thing"
The Master Negotiator is a dynamic hands-on workshop that enables participants to practice their negotiation skills as well as experience the full process of fruitful negotiation. 
Through this workshop participants will be able to identify the types of negotiations, the phases of negotiations, and the skills needed for successful negotiating through a series of role-plays based on Harvard business cases.
Learning Outcomes
Identify why negotiations fail; the barriers to a good negotiation and the goals of an effective one
Differentiate the five conflict handling modes and different negotiation styles
Examine the four Harvard negotiation principles
Review the phases of deal negotiation
Discuss tactics for handling difficult situations 
Take home a toolkit for mastering any negotiation
Workshop Content
Module One: Introduction
What defines negotiation
Importance of a successful negotiation
Why negotiations fail
How to become a good negotiator
Module Two: Essentials of Negotiation
Goals of effective negotiation
The Barriers to a good negotiation
The four mental modes of negotiation
Negotiation concepts
Module Three:  Situational Negotiation
5 Conflict-handling modes
Negotiation Styles
Developing assertiveness
Collaborative negotiation
Module Four: Harvard Principles
Four critical assessments for negotiation
Four Harvard Negotiation Principles
Module Five: Phases of Deal Negotiation
Ladder of inference
Fisher Analysis Circle Chart
Rules of good listening 
Tools for bargaining
Closing the negotiation
Module Six: Difficult Situations
Hierarchy of difficult tactics
Breaking impasses or deadlocks
Negotiation tactics
Module Seven: Tool Kits for Negotiation
Quick planning guide for any negotiation
Seven elements of negotiation
Who should attend?
Salespeople – Especially B2B
Purchasing Department
People Managing Different Internal And External Stakeholders
Account Managers, High Level Managers In Any Function
Workshop Fees: EGP 3,200